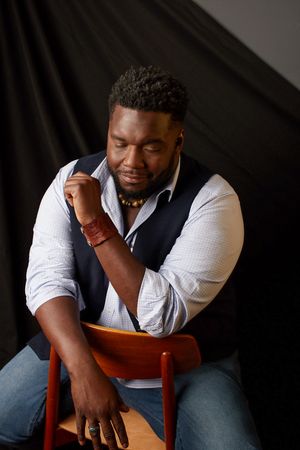 There's no time to lose, no time to gain
Find the truth that lies ahead the same
Worry not about how it will end
Life and love will start again and again
The Story Begins…
Every once in a blue moon an album comes along that feels as if it fell from a sky that opened and dropped it on a thirsty blue planet as an offering of love and hope. Phillip Brandon's The Story Begins is that gift - ten lovingly crafted songs in a warm wraparound throwback matrix of soul-stirring Contemporary Jazz, R&B and Pop that will place listeners under a tranquil spell of artful gratitude.
"I love the music of yesteryear…when Pop wasn't a format, just what was legitimately popular," Phillip shares. "I want to get back to a day when that comes back. In the meantime, I create songs from the heart and a spiritual space of hope. I came to understand long ago that there is a learning experience in all we do."
Indeed, Phillip's first full-length CD (following one self-titled five-song EP) offers fortifying musings on life and love destined to become balms of restoration for souls struggling to make their way in 2017's apparently unraveling universe.
The Story Begins opens with the tastefully orchestrated overture of the title track on which Phillip dispatches the plaintive tenor to baritone realms of his vocal range for an introspective directive on seizing the day in life. It is followed by the equally uplifting "Chocolate Child," words of spiritual nourishment for the youth of today – especially young Black American Kings and Queens - blessed with the bluesy tang of Phil Gates' guitar and Phillip's vocal delivery that channels the legendary Sammy Davis, Jr. and soul-jazz prophet Gregory Porter. "Mr. Porter gave me the most current inspiration to do what I do," Phillip confirms. "He once stated that it was his hope that he had opened a door for others to be unique. I hope one day to sing with him." On the song, Phillip adds, "Understanding the importance of the seeds we plant early in the heads of our young, I'm telling them, 'You're magnificent… You come from royalty...Know that and live that.'"
"Chocolate Child" is one of five selections that Phillip had the good fortune to co-compose with highly prolific and immensely successful songwriter/producer Preston Glass (Natalie Cole, Aretha Franklin, George Benson, Kenny G). In all, Glass produced seven of the CD's songs. From the luscious piano ballad "A Funny Thing Happened (On the Way To Goodbye)" to the tender Tropicana of the Stevie Wonder-esque "Looking For You (In Somebody Else's Eyes)," the signature sheen emanating from Glass' Platinum Garage workshop proves a brilliant no-brainer fit for Phillip. "My mother is the one who told me I should try a session with Preston," Phillip relays. "The magic was instant…smooth as butter with a great flow of energy." Glass concurs. "The richness of Phillip's vocal chords provides him a charismatic advantage. What sets him apart from others who possess similar richness (such as Will Downing) is his theatrical experience which he draws from liberally in his interpretation of a lyric. Phillip is a talent to be reckoned with. I enjoyed collaborating with him."
Love wafts seductive in other highlights of The Story Begins including the jazz-kissed "Stay in the Moment" (Brenda Davis - Phillip's Mom) is the featured vocalist), a cover of the mighty Luther Vandross' "Wait For Love" (key Phillip line: "I never stopped believing"), the mysterious spiritual wavelengths of "Mystic Bleu," the bass-driven funk message "Best of You," the rousing high-steppin' James Brown groove "Come On," and the epic wedding song "The Promise" (one of three songs overseen by producer DrFord). "'The Promise' was inspired by so many of my friends getting married coupled with my parents' beautiful marriage of 37 years," Phillip shares. The treasure includes this wonderful lyric,
You are the precious stone that a miner would have alone
And take back with the pride of a gem that's by his side
Phillip Brandon is the Los Angeles-born product of the divinely yoked marriage of Phillip & Brenda Davis. Dad is a big-time jazz lover who took Phillip to his first concert: George Benson. Mom, better known as "Ms. B," is a former Raelettes backup singer for the immortal Ray Charles with whom she travelled the world, bringing back tales of wonder to young Phillip. "I've always appreciated the old school showmanship of groups like Earth Wind & Fire, the O'Jays and Whispers. When I attend a show, I expect a performance! I'll never forget the first time I saw Maze featuring Frankie Beverly. Everyone knew all the songs and came away with a good feeling. It was an experience."
Despite family roots, Phillip didn't intend to follow in his mother's footsteps. He attended Venice High School, an international magnet high school where he studied Japanese. He next attended Atlanta's historical Morehouse College on a partial scholarship that required him to tour with their glee club. "We went on tour every spring singing classical repertoire and Negro Spirituals. I love travel so a light bulb went off over my head! I didn't go to school for music, It's just in me."
Phillip graduated with a degree in marketing but as the millennium took its turn he took part in singing competitions. "I started seeing more of the world singing in an a cappella group on cruise ships. When I sang, people often asked if I would read lines for them which led me to theater purely by happenstance," Phillip confesses. "I did Disney Hong Kong's 'The Lion King' and then a national tour of 'The Color Purple' playing the roles of 'Preacher' and 'Ol Mister'. Again, by chance, a scout for multi-platinum-selling rock group Trans Siberian Orchestra saw me singing 'Be Prepared' in a YouTube video. I have since been with them for eight years as their 'Narrator,' touring sold out arenas from Seattle to Miami every November to January."
Itching to share some expressions from his own heart – "to get some of this crazy out of my head," he laughs - Phillip put together a self-titled five-song EP with producer DrFord in 2013 that got him on the smooth jazz charts with the single, "Sail On." This also gave him an opportunity to road test his cherry-picked band of top tier musicians from all over the world: drummer Victor Á. Carracedo from Spain, guitarist Eugene Gorskiy from Ukraine, keyboardist Stan Loken from America, and bassist Carlitos Cuba…from Cuba! To date they have performed primarily in intimate theatre settings on the west coast in California, Nevada and Arizona, with a couple of stops in New York City.
Recently wrapping a role in "Born For This: The Musical" - the life story of Gospel legend BeBe Winans directed by "Motown: The Musical"'s Charles Randolph-Wright with Donald Lawrence as Music Supervisor - Phillip Brandon is operating with deep gratitude as he prepares to embark upon the journey of sharing with the world his amazing debut CD, The Story Begins.
"Let's face it: I'm a big black dude with a big voice," Phillip concludes. "I can't tiptoe anywhere! I am truly unapologetic about the space that I take up and am extremely thankful to the strong foundation of support that has allowed me to be successful for 10 years and counting in this business." In this era that has had some challenging moments for folks that look like me, the silver lining is, 'Look how far we have come.' I am always about some hope. (Singer-Songwriter) Richard Marx once said, 'When you're creating, you have to be selfish to share what's on your mind and hope it's on the minds others' as well.' That's me to a T."
Written by: A. Scott Galloway